Collaborative Partners
Directive 2011/24/EU establishes the legal base that ERNs should "collaborate closely with other centres of expertise and networks at national and international level".

The members of ERN eUROGEN currently collaborate with the following other European Reference Networks:

ERN ERNICA: The European Reference Network for rare Inherited and Congenital (digestive and gastrointestinal) Anomalies (ERN ERNICA) covers malformations of the digestive system (with working groups for oesophagal diseases, intestinal diseases, intestinal failure and gastroenterological diseases) and malformations of the diaphragm and abdominal wall (with working groups for malformations of the diaphragm and abdominal wall defects).  These disorders have an early manifestation in life and need multidisciplinary care and long-term follow-up.

ERN ERKNet: The European Reference Network for Rare Kidney Diseases (ERN ERKNet) is a consortium of 38 expert pediatric and adult nephrology centres in 12 European countries providing healthcare to more than 40,000 patients with rare disorders of the kidneys.

Endo-ERN: The European Reference Network on Rare Endocrine Conditions (Endo-ERN) aims to improve access to high-quality healthcare for patients with hormonal disorders. Endocrine conditions are often complex and require a long period of care due to chronic disease without being life-threatening. Therefore, endocrine care requires equal distribution of paediatric and adult care.

ERN ITHACA: The European Reference Network for Intellectual Disability, Telehealth, Autism and Congenital Anomalies (ERN ITHACA) meets the needs for highly specialized, multidisciplinary healthcare for patients with rare (multiple) malformation syndromes and rare intellectual and other neurodevelopmental disorders of genetic, genomic/chromosomal or environmental origin, both diagnosed and undiagnosed.

ERN TransplantChild: The European Reference Network for Paediatric Transplantation (ERN TransplantChild) focuses on both Solid Organ Transplantation (SOT) and Hematopoietic Stem Cell Transplantation (HSCT) which are low-prevalence and complex conditions that require highly specialized expertise and resources.  The network helps patients and family members who are going through or have gone through the complicated process of paediatric transplantation and works to improve the care of patients with this condition.

ERN EURACAN: The European Reference Network for Rare Adult Solid Cancers (ERN EURACAN) aims to tackle these complex and rare cancers that require highly specialised treatment and concentrated knowledge and resources.  The management of rare cancers poses significant diagnostic challenges, sometimes with major consequences for patients' quality of life and outcome. Inappropriate management of these patients may also result in an increased risk of relapse, and risk of death.
Rare 2030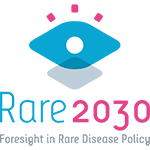 Rare 2030 was a two-year foresight study funded by the European Commission that gathered the input of over 250 experts from across the rare disease community (patients, practitioners, and key opinion leaders) to propose policy recommendations leading to improved policy and a better future for people living with a rare disease in Europe.

The study resulted in eight overarching recommendations to ensure that the future of the 30 million people living with a rare disease is not left to luck or chance. The eight final recommendations cover diagnosis, treatment, care, research, data, and European and national infrastructures and set out the roadmap for the next decade of rare disease policies.

ERN eUROGEN had three members in the expert group. They attended several virtual meetings of the Rare 2030 "Panel of Experts", along with many other stakeholders, to validate the trends and drivers that were identified, ranked, and prioritised throughout the year to define possible future trends important for rare diseases. They also contributed comments ensuring that highly specialised surgery was included in the recommendations, along with other important treatment options for patients with rare diseases and complex conditions.