WHO Endorses Global Network for Rare Diseases
Posted on

19 July 2022

in News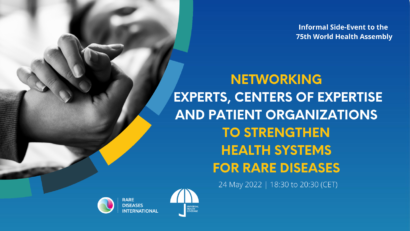 "We at the World Health Organization are on your side," said Rüdiger Krech, WHO Director of Health Promotion, giving the keynote address at the Rare Diseases International informal side-event to the 75th WHO's World Health Assembly (WHA) on 24 May 2022.
The event, entitled "Networking experts, centers of expertise and patient organizations to strengthen health systems for rare diseases", was a historic moment for the community, marking the launch of the ground-breaking collaboration toward a collaborative global network for rare diseases (CGN4RD) that aims to transform diagnosis and care for Persons Living with a Rare Disease (PLWRD) around the world. As such, the event gathered stakeholders from RDI, WHO, Health Standards Organization, NORD, EURORDIS, and the European Commission, as well as representatives of national rare diseases programmes worldwide.
The WHO affirmed the need to prioritise PLWRD to achieve Universal Health Coverage, highlighting its commitment to ensuring equitable access to care and quality health services for all. It was acknowledged that universal healthcare could not be truly achieved without considering the needs of the 300 million global patients with rare diseases.  Recognising the significant effort made by RDI and the rare disease community over the last years, Rüdiger Krech endorsed developing a global network of experts and expert centres supporting timely diagnosis and access to the appropriate care for PLWRD.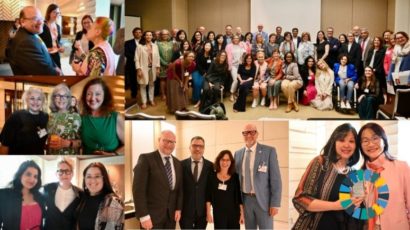 ERN eUROGEN Programme Manager, Michelle Battye, was at the event. She presented at a workshop on 25 May (presentation here) and highlighted that the ERNs are open to international collaboration with other networks and centres of expertise and gave some examples: such as ERN eUROGEN's collaboration agreement with CureForU, where some of ERN eUROGEN's experts have agreed to advise healthcare professionals in the developing world who urgently need advice on patients with rare and complex uro-recto-genital diseases.
It was a great meeting with inspirational clinicians and patient representatives from different countries worldwide who are enthusiastic and driven to collaborate to help improve care for patients with rare diseases.  It was also encouraging to hear Martin Seyshell, Deputy Director of DG SANTE, indicate the Commission's support for the WHO and the principle of networking the networks at a global level for patients with rare diseases. He said, "the EC is ready to invest".
The agenda and concept note are available, and a recording of the event is on YouTube. A full report is also in RDI's May Newsletter.