ERN eUROGEN Webinar: Sentinel node biopsy for penile cancer: why, when, how, and new developments
Posted on

31 December 2021

in News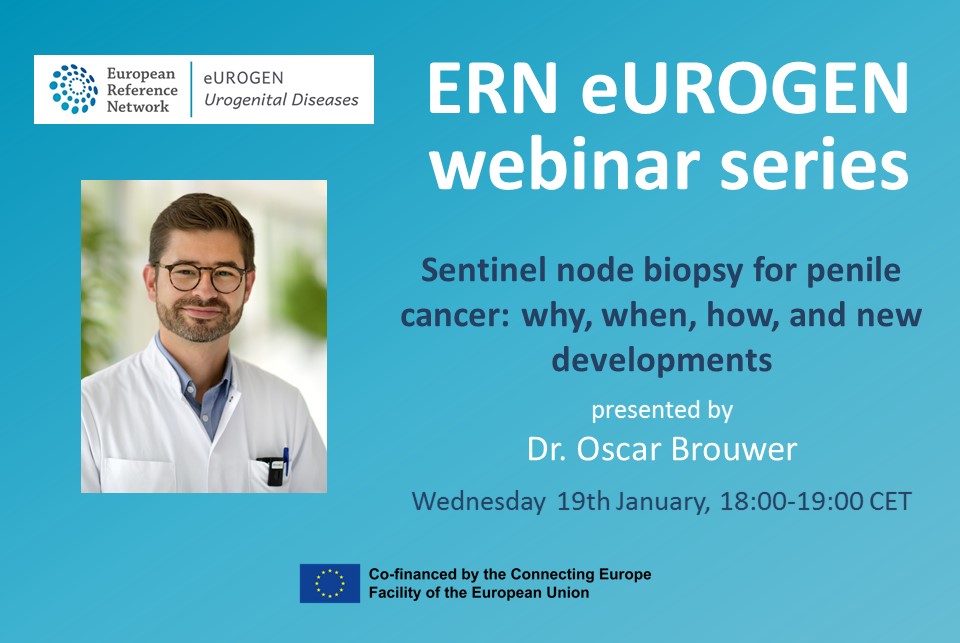 Wednesday 19th January at 18:00 CET.
The ERN eUROGEN Webinar programme returns for 2022, in a new regular Wednesday slot, still at 18:00 CET. The frequency of the sessions has also increased, with up to four webinars each month.
The first webinar of the new year will be on "Sentinel Node Biopsy for Penile Cancer: Why, When, How + New Developments" presented by Dr Oscar Brouwer (@Brouwer_MD_PhD), Urologist at the Netherlands Cancer Institute, Amsterdam. It is aimed at healthcare professionals.
Lymph node status is the most important prognostic factor in penile cancer and survival is improved by early detection of clinically occult metastasis. To reduce the morbidity of (modified) inguinal lymph node dissection, dynamic sentinel node biopsy (DSNB) was introduced. Over the years, the procedure has evolved and is still undergoing continuous improvements.
During the presentation, Dr Brouwer will show the clinical rationale, methodology and complications of the traditional DSNB procedure and highlight new developments.
ERN eUROGEN is the European Reference Network for rare urorectogenital diseases and complex conditions. Our multidisciplinary teams of experts are able to diagnose, suggest treatment or surgery, and then provide post-operative and transitional support. We have full members and affiliated partners across the majority of EU Member States.
You can register here for this event.
Details of other forthcoming ERN eUROGEN webinars, as well as links to previous webinars, can be found here.