ERN eUROGEN Webinar: Robotics for the surgical treatment of Hirschsprung disease
Posted on

20 January 2022

in News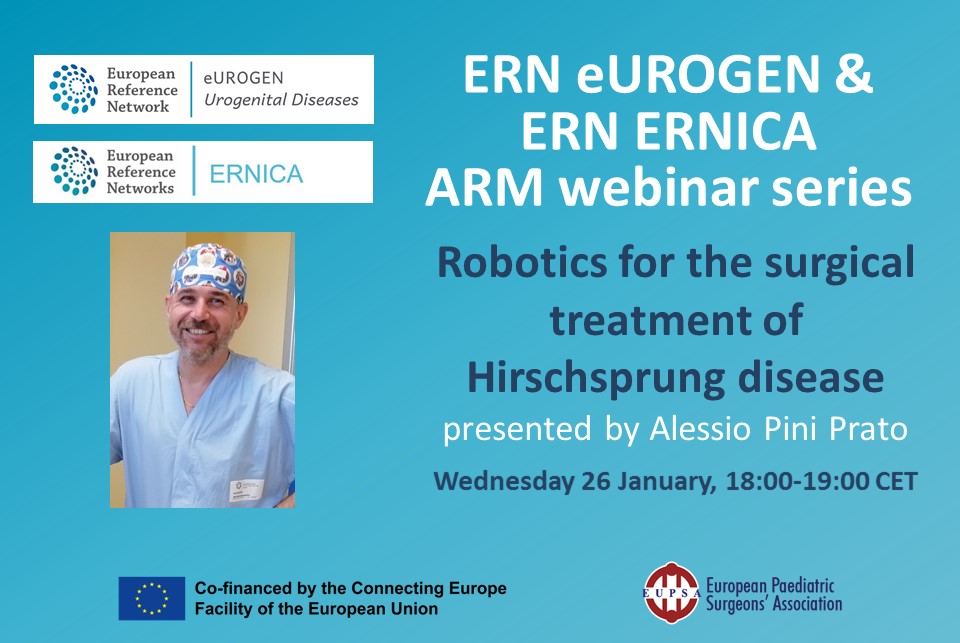 On Wednesday 26th January at 18:00 CET, we will be continuing our series of eUROGEN ARM webinars.
This webinar will be presented by Dr. Alessio Pini Prato, Director of pediatric surgery from the Umberto Bosio Center for Digestive Diseases in Allesandria.
Robotic surgery is taking the lead in pediatrics. It allows to perform complex reconstructive surgical procedures with a minimally invasive approach. Such procedures cannot not be performed with a classic laparoscopic approach but with a laparotomy due to the complexity of certain technical aspects. Scattered reports addressed the use of robotics for colorectal surgery in pediatrics. In particular, robotic surgery for rare congenital diseases, such as Hirschsprung disease, have been rarely addressed in recent years. In order to better address and clarify the feasibility of robotic surgery in this specific subset of patients, we will present a series of 30 patients who underwent robotic surgery for either primary or reiterative surgery in Hirschsprung's disease between 2017 and 2021 (5 year period). Only patients older than 1 year of age with a delayed diagnosis or with issues leading to reoperation have been included. We will focus on indications, technical details, complications and outcome.
The ARM webinar series covers all aspects of paediatric colorectal surgery, in particular (congenital) anorectal malformations. They are joint presentations between ERN eUROGEN and ERN ERNICA, and are supported by the European Paediatric Surgeons' Association (EUPSA).
You can register here for this event.
Details of other forthcoming eUROGEN webinars, as well as links to previous webinars, can be found here.