New eUROGEN Office Member – Lead IT and Data Performance Analyst
Posted on

17 December 2018

in News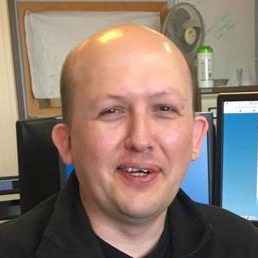 At the start of November, we welcomed Darren Shilhan, our new Lead IT and Data Performance Analyst, to the eUROGEN office team.  Darren has written a beautiful introduction to himself, which you can read on the eUROGEN website.
"As I write this, I have been in eUROGEN for one whole month to the day. It has gone quickly! I've already had the good fortune to meet quite a few of you, whether that was face-to-face, over WebEx, or simply saying hello via email. For those with whom I haven't yet been in contact, hopefully, our paths shall cross soon.
A little bit about me. My previous post was in the UK Civil Service in the Department for Work & Pensions, where I worked as both a generalist (mainly operational policy and guidance) for around nine years, and then a similar amount of time as an analyst. Much of this period was spent doing operational analysis and designing and operationalising a performance dashboard for the Permanent Secretary that enabled him to monitor the state of play across the whole Department. In addition to this, I also designed and ran a number of training courses for DWP staff in Excel and Visual Basic for Applications. I'm hoping to bring all of the knowledge and experience I gained in these roles to eUROGEN and hopefully make a positive difference.
My introduction to eUROGEN has been something of a whirlwind. Following a rather interesting induction day (which included handwashing tests and using fire extinguishers!), being able to settle down to a number of WebEx meetings during the rest of the week felt somewhat more comfortable. Just like the old job really. However, after this brief respite, it was off to Brussels twice in two weeks!
First up was the CPMS Training for Trainers workshop, which proved to be a very intense, though certainly immensely useful, day. Although I admit that, just 24 hours later, I was struggling to remember much of what I had done, it has gradually come back to me over the next couple of weeks as I have become more familiar with the system. Being thrown into the deep-end was probably the best thing that could have happened. I have realised very quickly just how much there is to learn about CPMS, looking at it from different user perspectives including my own as a data analyst, whilst at the same time needing to immediately use the system and advise others with their questions and issues.
The following week, I was lucky enough to attend the 4th ERN Conference. This seemed quite daunting initially, and indeed the number of people's names I was given but have since forgotten makes me a little ashamed – apologies in advance! However, the whole experience was a most excellent one. The atmosphere was incredibly friendly and I got a real sense of how everyone is motivated and driven by the idea of the European Reference Networks.
And that is my take-home message from the first month in the job; whilst there may be many difficult challenges ahead (something which the conference was not afraid to shy away from), the essentially simple concept behind the ERNs is something worth struggling for. As we say in the UK, it's a no-brainer."