How I Learned to Stop Worrying and Love CPMS
Posted on

20 February 2019

in News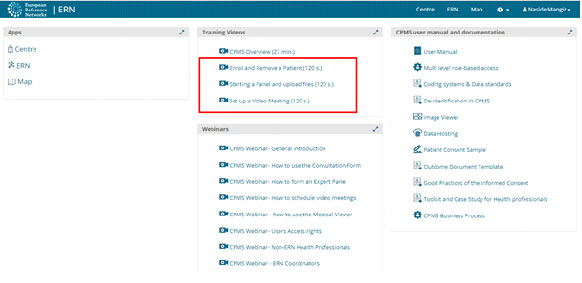 In case you didn't know (and if you don't, where have you been?), the Clinical Patient Management System (CPMS) is the IT Platform designed to facilitate clinical consultations between ERN Members. We in eUROGEN, along with other ERNs, want this to be a really useful and easy-to-use tool for all Health Professionals to upload and collaborate on patient cases.
Whilst it is not yet perfect, it is only by continuously using the system that we can help iron out the problems and ensure the design is streamlined to meet your needs. Thanks to the continuous efforts of DG SANTE colleagues, along with valuable feedback from eUROGEN users such as yourselves,  CPMS is continuously improving to meet your requirements!
Here we would like to highlight some of the latest cool features of CPMS that you may have overlooked.
In addition to the existing training videos and webinars on how to do things in CPMS, there are now three short (2 min) videos showing almost instantly how use the most basic functions of the tool. Of course, for those who would like more information, longer videos and written guidance is also still available!
(Figure (top) showing where to find the 2-minute training videos on the CPMS main page)
Did you know you could record your video meetings on CPMS? Whilst in your CPMS video meeting, the host can simply click on the record button above the video feed. Further improvements to this feature have now been made to allow recordings of longer durations.
There are plenty of other hints and tips available to help you with using CPMS. Please remember, it's only through using the system, and telling us what you'd liketo see changed, that we can make improvements.
If you have any suggestions, comments, criticisms or, indeed, compliments about CPMS, or you simply need help in using it, please let us know. To do so, please contact Darren Shilhan, the eUROGEN CPMS point-of-contact, at darren.shilhan@sth.nhs.uk