eUROGEN Webinar: VACTERL or not VACTERL – does it matter? For geneticists, patients, & clinicians
Posted on

15 February 2021

in News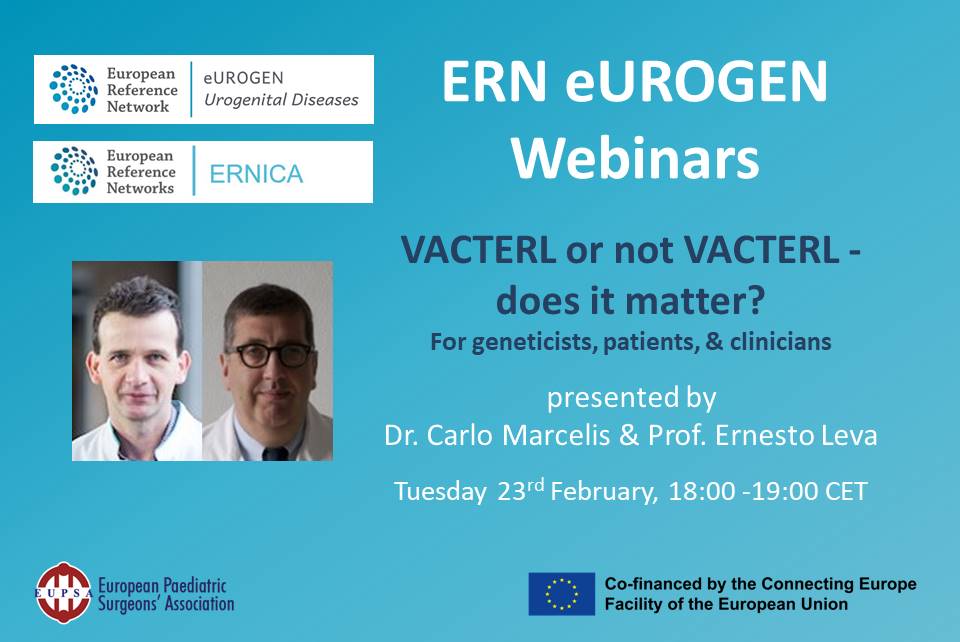 On Tuesday 23rd February at 18:00 CET, we will be continuing our series of eUROGEN webinars.
This is the fourth webinar in the series covering all aspects of paediatric colorectal surgery, in particular (congenital) anorectal malformations, and is a joint presentation between ERN eUROGEN and ERN ERNICA.
The webinar will be presented by by Dr. Carlo Marcelis from the Department of Human Genetics in Radboudumc in the Netherlands and Prof. Ernesto Leva, Director of the Department of Pediatric Surgery at the Policlinico in Milan. It is aimed at both healthcare professionals and patients.
VACTERL association is the non-random occurrence of a combination of vertebral, anal and cardiac anomalies, trachea-oesophageal fistula with oesophageal atresia, radial anomalies, and renal dysplasia. The clinical diagnosis can be made when at least three component features are present. This webinar will present the views of both a geneticist and a surgeon as to the importance of VACTERL diagnosis.
You can register here for this event.
Details of other forthcoming eUROGEN webinars, as well as links to previous webinars, can be found here.