ERN eUROGEN Webinar: Quality of life in patients with ARM – State of the art and clinical management
Posted on

13 May 2021

in News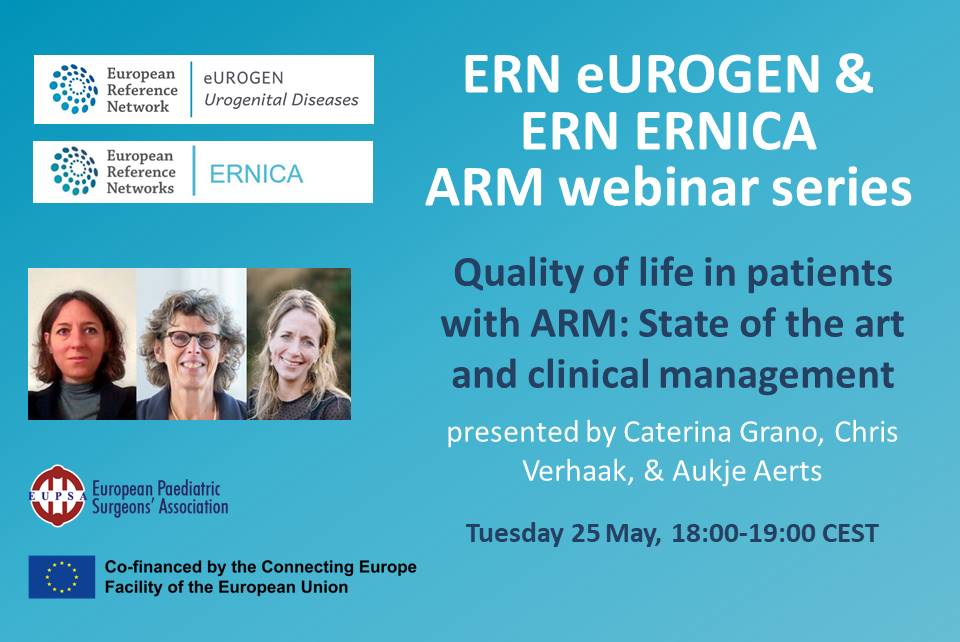 On Tuesday 25th May at 18:00 CEST, we will be continuing our series of eUROGEN ARM webinars.
This webinar will be presented by clinical psychologists Ass Prof Caterina Grano and Ass Prof Chris Verhaak, alongside Aukje Aerts, a psychologist providing behavioural interventions.
ARMs greatly effect the quality of life (QoL) because of functional impairments and through psychosocial wellbeing, sexuality and self-esteem. In addition, treatment options are invasive and ask for intense disease management, impacting on daily life of both children, adolescents, adults and their families. This presentation will highlight the state of the art regarding research on QoL and mental health in children and adults with ARM. In addition, theoretical framework and implications for paediatric clinical practice as well as an overview of psychosocial interventions will be presented. The webinar will be given by experts in research on QoL as well as by a psychologist involved in daily clinical practice with children and adolescents with ARM and with their parents.
The ARM webinar series covers all aspects of paediatric colorectal surgery, in particular (congenital) anorectal malformations. They are joint presentations between ERNs eUROGEN and ERNICA, and are supported by the European Paediatric Surgeons' Association (EUPSA).
You can register here for this event.
Details of other forthcoming eUROGEN webinars, as well as links to previous webinars, can be found here.