ERN eUROGEN Webinar: Bowel management in children with anorectal malformations
Posted on

10 March 2021

in News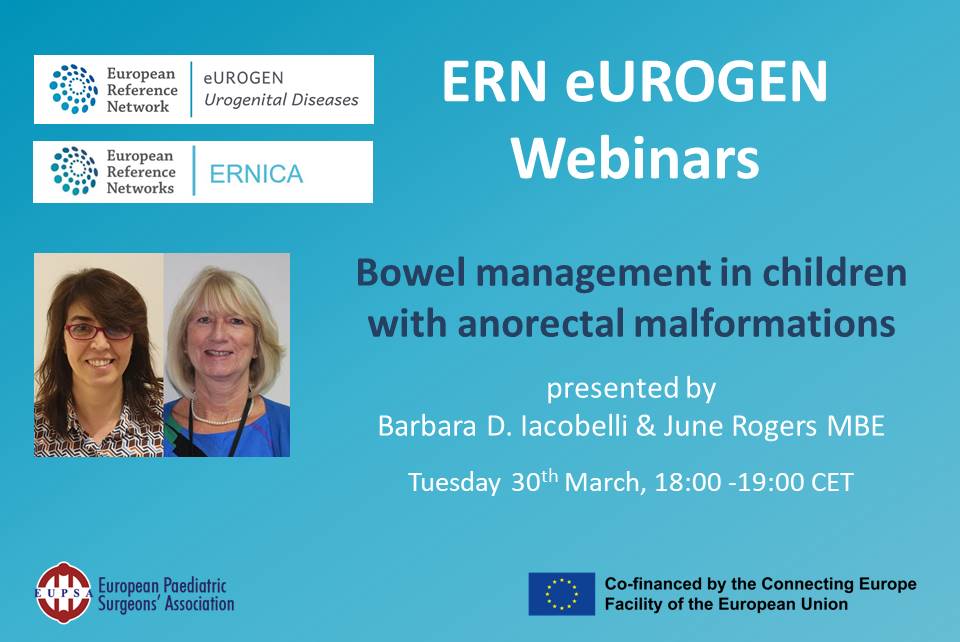 On Tuesday 30th March at 18:00 CET, we will be continuing our series of eUROGEN webinars.
This webinar will be presented by Dr. Barbara Daniela Iacobelli, paediatric surgeon at Children's Hospital Bambino Gesu in Rome, and June Rogers MBE, a former specialist nurse and representative for the patient organisation Bladder & Bowel UK, and is aimed at both healthcare professionals and patient groups.
The webinar will focus on the importance of bowel management in patients operated for anorectal malformation. The treatment of these patients starts with the surgical procedure, which represents only the first step of a long pathway. Bowel management plays a pivotal role in the treatment of faecal incontinence, hence in the quality of life of these patients.
This is the fifth webinar in the series covering all aspects of paediatric colorectal surgery, in particular (congenital) anorectal malformations. It is a joint presentation between ERN eUROGEN and ERN ERNICA, and is supported by the European Paediatric Surgeons' Association (EUPSA).
You can register here for this event.
Details of other forthcoming eUROGEN webinars, as well as links to previous webinars, can be found here.