ERN eUROGEN Exchange Programme: Now Closed but A Great Success
Posted on

31 August 2023

in News
The EC's pilot ERN Exchange Programme (facilitated by Ecorys) ran from March 2021 to January 2023 to strengthen clinical and organisational expertise and share best practices, experiences, and highly specialised knowledge. The programme allowed healthcare professionals from ERN Full Member and Affiliated Partner HCPs, patient representatives, and ERN staff to visit ERN Full Member and Affiliated Partner HCPs for up to six weeks (allocated in five-day packages), with travel, accommodation, and subsistence fully funded by the EC.
At the end of the pilot, ERN eUROGEN was the highest achieving ERN, using 82 packages to facilitate knowledge transfer within the network, including individual and group clinical visits, an organisational visit with the ERN RARE-LIVER coordination team, and a group training workshop on spina bifida and other dysraphisms (SBoD) with ERN ITHACA.
Based on this success, ERN eUROGEN used a Bridging Grant Amendment to reallocate budget from underspending on other activities and launched its own exchange programme from February to August 2023, enabling clinicians to continue to travel and gain or share expertise. The protocol for that programme can be found here.
Thirteen exchanges were facilitated between 1 February to 31 August 2023, exceeding the target by seven.  The feedback from attendees has all been highly positive and can be found below.
Although funding is unfortunately unavailable to continue the full programme after August 2023, ERN eUROGEN will continue supporting Ukrainian healthcare professionals in visiting the network's HCPs for clinical and surgical training.
Feedback from Lisette t'Hoen: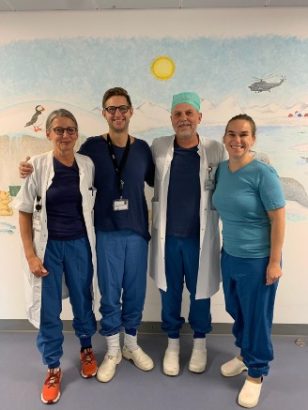 I visited Arhus for two weeks. During my stay, I saw all different types of surgeries, visited the outpatient clinic, and saw how urodynamic studies are performed. It was so interesting to see that for the bigger surgeries, the differences in approach are minor, but in the most commonly performed surgeries, the differences could sometimes not have been greater. Overall, it was great to learn from this great team. It has been a very valuable experience to see how other paediatric urologists work and organize their care. The team in Arhus has been great in making me feel welcome and part of the team during work hours and during the annual urology department party. I had a real taste of Danish culture. I would like to thank the ERN for this opportunity and would recommend all our colleagues to do this exchange!
Feedback from Duncan Aquilina (visiting with Andrew Mercieca and Johanna Ghigo):
Myself and two colleagues who take care of transgender patients in Malta visited Ghent University Hospital to increase our knowledge about transgender surgeries. During our visit, we were mainly with Prof Buncamper and Prof Spinoit. We had three days full of surgeries which were so very interesting, and we all learnt new techniques that we will implement to benefit our patients in Malta. I would definitely be interested in doing another exchange as one sees and learns techniques from these programmes that other colleagues are utilising. As surgeons, we are all very keen to learn new techniques. All this was possible through the ERN eUROGEN exchange programme. Thank you so much for making this visit possible.
Feedback from Keetje de Mooij:
For my ERN exchange, I visited the paediatric urologists of the Karolinska Hospital in Stockholm. It was good to see how specific paediatric urology problems are challenging everywhere, and doctors struggle with the same difficulty in making the right decision for the future perspective of the patient. Also, the lack of medical personnel and the problem that it is creating is recognisable. The paediatric urology group took me in as a colleague, and I was able to see all kinds of different operations and outpatient clinic visits. I would definitely recommend an ERN exchange to another colleague. It expands your view on patient and hospital care beyond your own horizon.
Feedback from Mantas Fabijonavicius:
I have just come back from the fellowship at UZ Leuven and want to express my sincere gratitude to the ERN eUROGEN team for making this opportunity possible. It was an incredibly wonderful and enriching experience that I will cherish.
Feedback from Coen Holzhauer:
Considering my stay in Leuven, I had a great time. I visited the OR and learned about different strategies during surgery and spent a day on the outpatient clinic. It was useful to learn about the slightly different protocols in Belgium and I look forward to using my gathered information in my own hospital for further development of our own protocols.
Feedback from Marie Andersson:
We were able to make two separate visits to Paris through the ERN eUROGEN Exchange Programme in 2022/2023. The goal was to take part in robotic surgery for Spina bifida patients. During the first visit, I travelled alone, during the second, I was able to travel together with two colleagues. Our host, Matthieu Peycelon, was very accommodating, and we had very pleasant visits. The exchange of expertise and experiences between centres is extremely useful when dealing with rare diseases. Here are some photos. Thank you for the opportunities to do this!