Article Published – Rare and Complex Urology: Clinical Overview of ERN eUROGEN
Posted on

19 March 2021

in News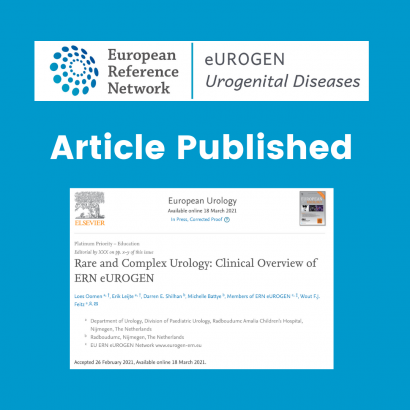 ERN eUROGEN, the European Reference Network for rare urorectogenital diseases and complex conditions needing highly specialised surgery, is very proud to announce that their first peer-reviewed article "Rare and Complex Urology: Clinical Overview of ERN eUROGEN" has been accepted and published in European Urology.
This important paper provides an overview and identifies challenges in data collection at the European level of the network's patient population, treated by their Healthcare Provider (HCP) members.  ERN eUROGEN analysed this patient population between 2013 and 2019, and the data show that ERN eUROGEN's HCPs and expert multidisciplinary teams are treating an increasing number of patients and performing an increasing number of complex surgical procedures.
However, despite a well-structured continuous monitoring system, challenges persist regarding definitions of diagnostic codes, extraction of patient numbers and procedures, and validation of these data; therefore, improvements are needed in patient registration. The  network is expanding in 2021 (with an expected 30 new full HCP members and new disease areas) which will also facilitate the provision of equal care for all patients suffering from rare urorectogenital diseases and complex conditions in Europe. ERN eUROGEN will continue to follow this up with a view to further publications.
Future actions will include a re-evaluation of network members and current practices to maintain expertise levels, the continuation of patient registry development, and research aimed at providing new insights and optimal care studies on rare diseases.  Knowledge sharing is also expanding with more frequent webinars, the development of clinical guidelines, and the start of the ERN Mobility Programme facilitating expertise exchange between HCPs.
The network is very grateful to all who contributed to and helped with the landmark publication in European Urology, and they encourage readers to share it widely with their networks.