The stakeholders of the ERN eUROGEN Registry are the groups in society who will be positively affected by ERN eUROGEN's Registry outcome. These are:
Patients, their families and patient organisations in the field of rare uro-recto-genital diseases:
Patients will be the primary target group of the registry, which aims to improve their medical care by stringent performance and outcome monitoring, generating highly relevant prognostic information, and facilitating their access to clinical trials on novel medications and technologies. The registry will include both children and adults, which will offer a unique opportunity to analyse the lifelong evolution of these rare diseases and complex conditions.
Healthcare providers (HCPs) in the field of rare uro-recto-genital diseases and complex conditions:
The registry will have significant added value for all physicians involved in this field, where there are very few cases to create high-quality standards and EU guidelines. At the same time, the registry could represent a burden due to the time demand of getting used to the platform and filling in the data sets.  Crucially, without the collaboration of network HCPs, this registry will not succeed.  Therefore, HCPs are probably the most important target group.
Public health authorities and policymakers:
The registry will be highly valuable to healthcare administrators on the local, regional, national and EU levels as it will generate novel information on disease epidemiology, management quality, and health outcomes that can be used for cost efficiency analyses.
Researchers in the scientific community and the pharmaceutical industry:
The registry will be very useful for both the pharmaceutical industry and independent academic researchers in need of information on specific disease populations potentially suitable for involvement in clinical trials, epidemiological studies, and translational research.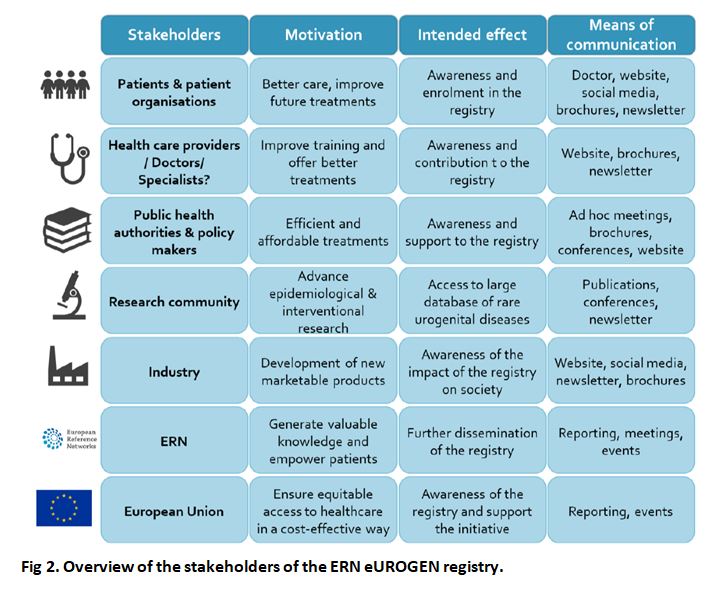 Save