Update from ERN eUROGEN Annual Strategic Board Meeting 2020
Posted on

6 July 2020

in News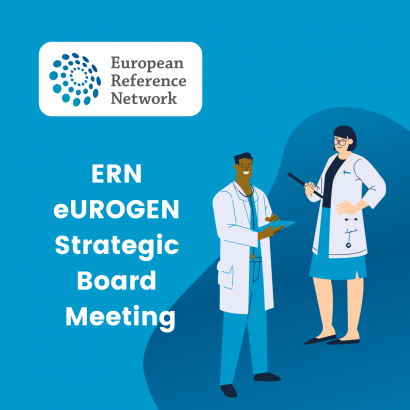 ERN eUROGEN held their annual Strategic Board Meeting using virtual conferencing on 12 June 2020, despite the unprecedented global situation with the COVID-19 pandemic.  Over 50 network members attended, including full and affiliated healthcare provider members, supporting partners, and ERN patient advisory group (ePAG) representatives.
The meeting included an introduction and overview of progress from Wout Feitz, ERN eUROGEN Network Coordinator, a presentation on the management and enlargement of the network from Michelle Battye, ERN eUROGEN Centre Manager, and an update on communication and dissemination strategy from Jen Tidman, ERN eUROGEN Business Support Manager.
The European Commission was also involved to give an update on monitoring and next steps (Enrique Terol, DG SANTE) and an update on the Clinical Patient Management System (Bart Verlinden, DG SANTE and Alan Comer, OpenApp).
Patient voices and representation are essential to ERN eUROGEN and we were pleased to have an ePAG update from Serena Bartezzati (AICI Onlus) and June Rogers (Bladder & Bowel UK), as well as a presentation from Jessie Dubief, (EURORDIS) covering the results of the H-CARE pilot survey.  Katja Wolffenbuttel (Erasmus MC) also gave a fascinating presentation about contributing to constructive dialogue between different DSD patient groups, healthcare professionals and other parties involved in DSD.
Plenty of time was given for discussion, questions and answers, suggestions for outcome indicators, and voting relating to future actions.  The full minutes and all of the presentations are available on the ERN Collaborative Platform.
ERN eUROGEN is proud of the developments over the past year and confident of achieving even more over the next 12 months.  We hope to see everyone in person back in Noordwijk in 2021!